Happy Valentine's Day!  Style is more than fashion – it touches every aspect of our lives. Today I offer you  a very stylish addition to your cooking repertoire. For those of you anticipating your special someone will soon pop the question, I offer a recipe with a very special back story.
Many of you no doubt are familiar with "Engagement Chicken" – a recipe that Glamour magazine made famous and which is credited with prompting a number of marriage proposals. The first reported proposal came a full month after the dinner at which the lemon-accented chicken was served, the boyfriend  noting "It's a meal your wife would make. It got me thinking."
I'm pleased to share my recipe for "Expedited Engagement Shrimp."  This is the entrée I cooked for my then-boyfriend's family on Mother's Day 2012 — a recipe that resulted in Paul making an impromptu marriage proposal that very evening, months before he had planned to do so. Tomorrow, Paul and I will be married one very happy year.
Do let me know if this recipe proves to be a charm for you.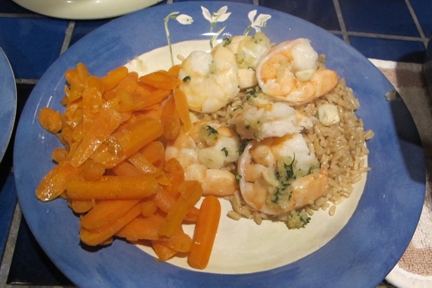 Photo:  "Expedited Engagement Shrimp" plated with sautéed carrots and brown rice
Expedited Engagement Shrimp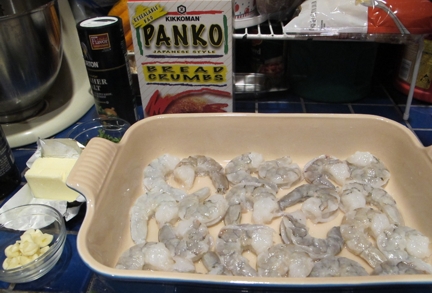 In a large flat baking dish combine approximately 1 1/2 pounds jumbo or extra large raw shrimp (whatever fits in one layer), 4 cloves sliced garlic, and 2 tablespoons white wine. Season lightly with course-ground salt.
Sprinkle with a mixture of 1/4 cup softened butter, 1/4 cup panko bread crumbs, and 2 tablespoons chopped parsley.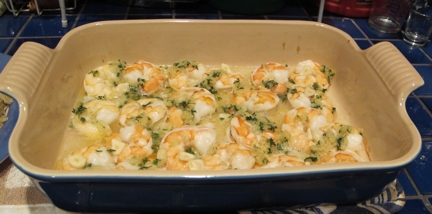 Bake at 425 degrees until the shrimp are opaque, 15 to 18 minutes.