There's something glamorous and lovely about a long, graceful neck – a neck long enough to accommodate a choker-style necklace that encircles the throat.
CharlizeTheron has been wowing us with the extraordinary ensemble she wears in the Dior media ads.
Sometimes, however, a long neck can visually appear to be too long, out of proportion to a woman's body. Recent magazine visuals show how an extra-long neck can be made to look more proportionate to an overall silhouette.
A two-page ad from Dillard's that appeared in the November 2013 issue of Real Simple demonstrates the point. In the above image, the model wears a sumptuous vee-neck sweater from Alex Marie Cashmere. She is long and lean, and her neck is almost startlingly long while her head is relatively small for her length.
The vee-neck sweater emphasizes her extra-long neck, and visually she looks out of proportion. But put the same model in a turtleneck sweater, and the sense of skewed proportions is eliminated. The turtleneck sweater is far more flattering on the model.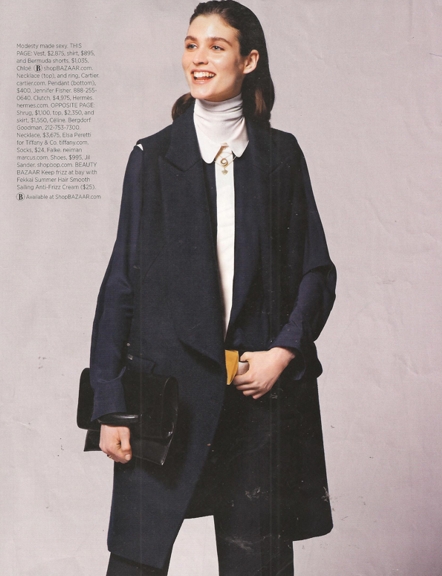 From the June/July 2013 issue of Harper's Bazaar, here's a great example of an ensemble created to work with a model's extra-long neck. The model wears a turtleneck top under a collared shirt. Beneath the collar, she wears stacked pendant necklaces. The long neck can accommodate the layered garments and jewelry.
Most women do not have extra-long necks. If you have a short neck, you will find the vee-neck top much more flattering, and possibly also more comfortable to wear, than a turtleneck. Opening up space under the chin with the vee shape gives the appearance of a longer neck.
If you have an average-length neck, you may be lucky enough to be flattered by either the vee-neck or the turtleneck style. Lucky the woman with perfect proportions!