I understand that fit models can be expensive, but the disservice paid to a Marina Rinaldi A-line skirt by Saks Fifth Avenue in its online shopping site is perplexing.
The $415 skirt, pictured above, is currently reduced to $83, and it's easy to see why — the skirt does not fit the model. Let's look at a lightened version of the photo to better understand the fit issues:
What is happening here is that the skirt is not cut to accommodate a high hip. A high hip is that marvelous physical attribute that provides a place to balance a stack of books, a bag of groceries, or a baby – sort of a convenient natural  shelf.  A figure with a high hip is called a figure eight silhouette. The high hip can be found on women of all sizes – it is not a feature unique to full-figured women, by any means. The high hip requires a garment cut to accommodate the shape of the body.
The Marina Rinaldi A-line skirt pictured would work beautifully on a model with a low hip, which is more of a classic hourglass shape, with a gentler curve between the waist and the widest part of the hip.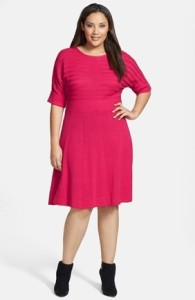 The model above, wearing an Eliza J fit and flare dress from Nordstrom, has a true hourglass figure with a low hip. Although she has her hand posed just under her waist, she has very little in the way of a high hip shelf. The Marina Rinaldi skirt would work beautifully for this model. The shape of  the skirt would skim over her hourglass curves.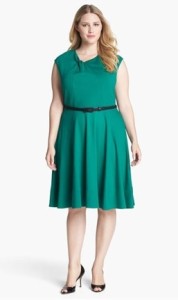 Contrast the model wearing the pink dress with the above model, wearing a teal fit and flare dress, also from Eliza J at Nordstrom. The belt beautifully defines her figure eight shaped silhouette. The Marina Rinaldi A-line skirt would not suit her.
Consider how a high hip necessarily clashes with the shape of an A-line skirt or dress. In order to accommodate the high hip, the A would need to get very wide very fast, and, to be a true A-line, would need to keep expanding on that trajectory.  If an A-line garment can accommodate a hip shelf, often it is flaring out so severely as to look extremely wide toward its hem – perhaps the kind of dress that is worn with layers of ruffled petticoats. Great for square dancing, perhaps, or costume parties, but not for everyday style.
The solution for women with figure eight silhouette and a high hip:  Choose a style that has ease in the garment immediately below the waist and then curves back in toward the body after it skims over your hips and thighs. A pencil skirt may be a terrific option for you.
In contrast, if you have an hourglass shape with a low hip, there's a marvelous Marina Rinaldi A-line skirt available at Saks on sale now.