More than a few fashion designers and editors are strongly promoting the style of short boots referred to in the fashion vernacular as "booties" this season.  If your point of reference is models with legs that seemingly go on forever, it' s easy to understand why you might think this style is fresh and chic.
With a dizzying array of styles, what booties have in common is a relatively high heel, whether blocky, stiletto, or something in between, sometimes accentuated with wedges or platforms, and a top that ends high on the top of the foot or at the ankle. Here's a selection from the October 2013 issue of Elle magazine.
The issue with ankle boots is their effect on proportions:  They have the visual effect of shortening the wearer's legs. The longer your legs, the more likely you will find the style flattering.
To accommodate the visual shortening of the legs at the bottom, fashion editors suggest raising the hemline on the skirt so that more leg is showing.  That works great in theory, but, as a practical matter, most situations – and most mature bodies –  require more leg cover. Wearing booties with matching dark tights helps to minimize the shortening effect, but unless the tops of the booties fit close against the ankles or legs, they can't quite make up for the visual effect of a horizontal line at the ankle.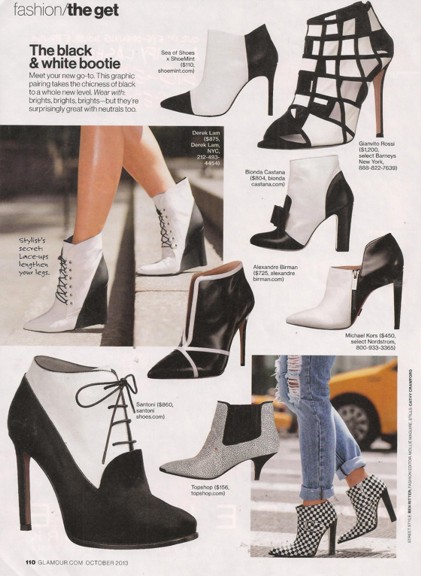 This montage from the October 2013 issue of Glamour includes a couple of photos of ankle boots on models' legs. Their long legs look short, lace-ups notwithstanding.
Even Lucky magazine, which targets a younger demographic than this blog, reports that its accessories editor Melissa Lum "smiled kindly–almost pityingly–at this question": "Socks with ankle boots. How to make this work?"  Lum replies:  "The short answer is you need to have really cute legs if you want to wear ankle boots–ankle boots with socks are even harder." The magazine expands this view:  "The problem is, they cut your leg off at its slimmest portion–so any leg, no matter how lithe, looks a little chunkier and stubbier."
As for ankle boots worn with pants, the issues are similar. For the sleekest line, tuck slim pants into the boots, but the visual line created at the top of the boots still shortens the legs. Alternatively, wear boot-cut pants over the ankle boots. While that avoids the cutoff effect, it also makes the style entirely superfluous because no one can see that the footwear consists of ankle boots.
Some of the ankle boot designs are stunning, no doubt — worthy of inclusion in a footwear collection. But in real life, they simply may not be flattering.