The Plus-Size Style column by Ashley Falcon in the October 2013 issue of People Style Watch addresses a reader's question: "How can I find jewelry and bags that fit and flatter a plus-size woman?"
It's nearly impossible to condense all the advice one might give on the subject of jewelry that fits and flatters a full-figured woman on a single page (I've conducted entire workshops on the subject), but Falcon provides some valuable pointers. Here are my expanded comments and recommendations:
Bracelets:
Falcon suggests hinged bangles, which open in the middle to allow them to be put on easily, and open cuff-style bracelets, which have some give. She notes that regular bangles "tend to be too small–try plus stores like Lane Bryant or Avenue."
This season bangle bracelets have lost their cache, as wearing stacks of bracelets has fallen out of favor. Hinged bangles and open cuff-style bracelets are both excellent choices, available in fine jewelry as well as costume jewelry versions. One beautiful hinged or open bracelet provides a beautiful finishing touch to an ensemble. For a range of well-priced options, peruse the vintage offerings on eBay. Above, People Style Watch pictures a goldtone hinged bracelet from pt. 9 at Kohl's and a collection of double header spike bracelets from CC Skye.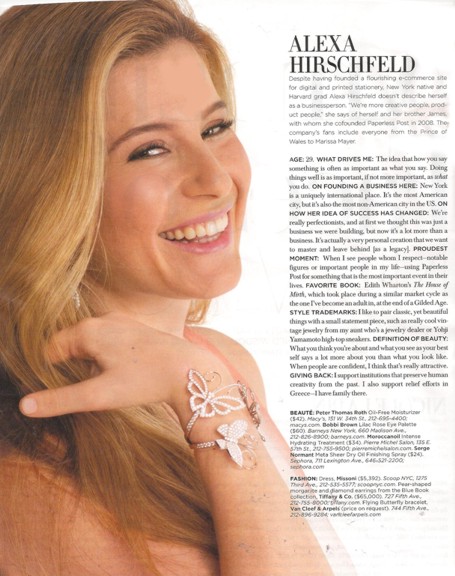 Don't limit your search for jewelry to low-end options. Above, the Van Cleef  & Arpels "Flying Butterfly" bracelet in 18kt white gold and diamonds, pictured on entrepreneur Alexa Hirschfeld in her profile in the May/June 2013 issue of Gotham Magazine, would work beautifully on a larger wrist.
Rings:
Falcon states that she likes "stretchy ones from Rachel Roy and Kenneth Cole, or HSN for cute styles up to size 12." Pictured is an inexpensive ring from Lane Bryant, about which Falcon writes: "The elasticized back lets anyone get an almost-custom fit."
If you want to incorporate the latest trend very inexpensively, an elasticized ring may provide an option. With a wide range of sizes provided on television shopping channels such as HSN (up to size 12) and QVC (up to size 11), and the myriad of offerings on eBay, however, it is easy to find a beautiful ring in a classic style that provides a more comfortable exact fit. Sterling silver options are extensive from all of these sources. If you prefer the warmth of yellow gold to white metals but gold rings aren't in the budget, consider vermeil, which is gold layered over sterling silver, or bronze.
Don't forget, however, that many if not most ring styles created in precious metals such as gold and silver can be sized up by your jeweler. While the jewelry will need to add metal to stretch the size of the ring, the amount of metal required for a ring will be relatively small and the cost may be less than you expect. Find the gemstone or precious metal ring of your dreams and have it resized.
Necklaces:
Falcon writes, "Adjustable necklaces are ideal, but you also can buy a necklace extender at Nordstrom or Walmart."  The necklace pictured, from Stella & Dot, adjusts from 17 to 20 inches.  Here the advice goes awry. About the pictured necklace, Falcon notes: "You can make it longer so it stops at that perfect spot 1 to 2 inches above your cleavage."
Unless your bustline is just under your chin, this comment about the "perfect spot" is simply not correct relative to a necklace that adjusts no longer than 20 inches. More likely, you will require a necklace in the range of 24 to 28 inches in length. However, a necklace that stops higher than one to two inches above the cleavage can be a flattering length for a busty woman.
Don't ever wear a necklace that is too tight around your neck — you will look and feel uncomfortable wearing it.
Necklace extenders are problematic. Be very careful about adding an inexpensive extender that isn't an excellent match to a necklace that is too short. Unless the extender is covered by your hair, it can bring attention to the fact that you are wearing jewelry that doesn't fit you well.
One additional important caveat:  If you don't want to draw attention to your chin, short necklaces are probably not an optimal choice. You might well prefer to draw the eye elsewhere.
There are at least two important options that Falcon fails to address in the limited space she had: brooches and earrings.
Brooches:
Brooches are the wild cards of jewelry, completely indifferent to your size, and versatile in a way that a necklace or bracelet can never be. Choose one or more than one, and for ideas on how to style them, look at First Lady Michelle Obama's stylings. Armani and Chanel often show brooches with their couture looks. Don't overlook the style potential of these marvelous little pieces of art. Here again, eBay is an excellent source for vintage costume and fine jewelry selections in a dazzling range of styles.
Earrings:
Earrings should be the mainstay of every woman's jewelry wardrobe, as they bring attention up to her face.  Earrings, like brooches, are completely indifferent to your size.  Long drop earrings can add a flattering vertical emphasis. Choose drop earrings with some width, such as chandeliers, rather than thin linear drops, which serve to emphasize the relative width of your face. If you have a shorter neck or prefer not to highlight your neck, choose cluster or button-style earrings that sit on your earlobes and draw the attention upward.
Every full-figured woman can find a wealth of jewelry choices readily available that both fit and flatter. Don't forego the jewelry — it adds polish and personality to every ensemble.