Mid-Century style is providing inspiration for designers this season in the return of ladylike accessories. The style influence of handbags dating to the 1950s and 1960s is particularly evident.
The September 2013 issue of Harper's Bazaar identifies the top-handle bag as one of the 10  key pieces of the season.  Picturing an $1,895 bag from Balenciaga, a $2,455 bag from Giorgio Armani and a bag from Reed Krakoff (similar to other styles sold on the magazine's retail web site for upwards of $800), the magazine reports: "The front-page news is that there's no single defining model this season. All that matters is that your arm candy is discreet, elegant, and top-handled."
Designer Marc Jacobs was one of the early adapters of the vintage look, introducing in his spring 2013 collection the "Shiny Teds Camden" made of Spazzolato leather, with a high-shine look similar to that of patent leather, and a price tag of $1,295. An ad featuring the bag is pictured above.
You can find similar 1950s-era handbags, such as the vintage black patent leather bag with a clear Lucite handle that sold on eBay in July 2013 for $39 – roughly three percent of the cost of the Marc Jacobs design.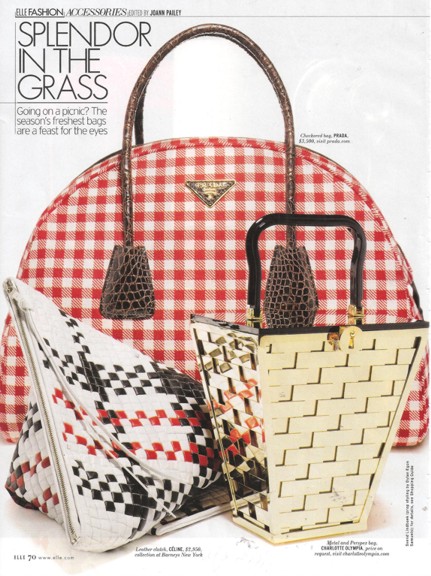 Designer Charlotte Olympia has created a handbag made of metal and Perspex (a type of plastic) that was featured as "one of the season's freshest bags" in the July 2013 issue of Elle magazine, price on request. The handbag has a geometric shape; the metal is a pattern of woven strips; the top of the bag is flat plastic with a molded plastic handle. Charlotte Olympia bags tend to run over $1,000.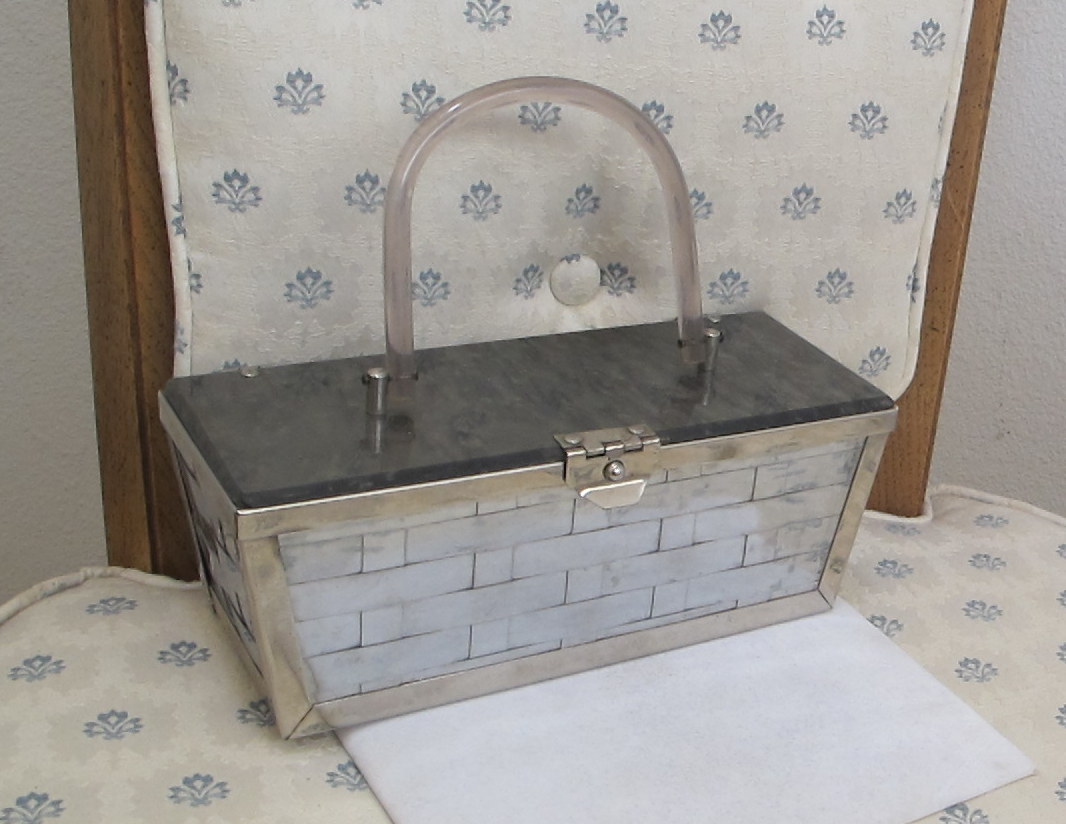 Here's a similar woven metal 1950s-era handbag with a Lucite top that sold on eBay in June for $20.
At vintage clothing expos, you can expect to find Lucite and woven metal mid-Century bags for $100 – $300, and on eBay, a savvy shopper will do ever better.  Snag a fashion-forward top-handle bag in good to excellent condition at- a fraction of the cost of the new designer options, and ever so chic.