Some garments are especially tricky to accessorize, as they are so full of eye-catching details that they demand the full attention of the eye. The drawstring neck of a hippie Boho-style dress from Saint Laurent by Hedi Slimane is such a garment.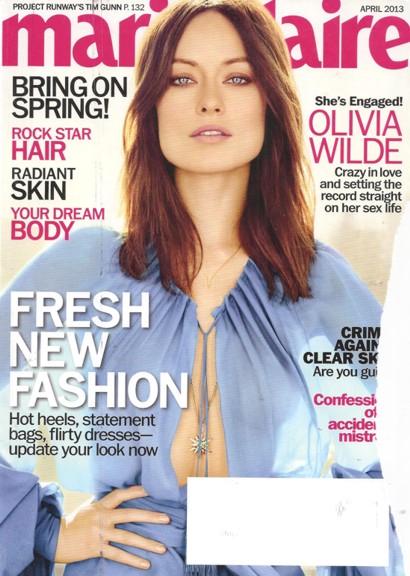 On the cover of the April 2013 issue of Marie Claire magazine, actress Olivia Wilde wears this dress, the drawstrings tied loosely and the front of the dress open low. Despite all there is to see with this decidedly sexy dress, the stylists for the magazine chose to add two necklaces – a short pendant necklace from Eva Fehren that lays above the neckline of the dress, and a chain with a much larger starburst-shaped pendant from H. Stern.
The starburst pendant is lovely, but it extends several inches under the neckline of the dress and is hidden under the drawstrings. The placement of the pendant makes no sense. It distracts from the dress and yet itself is unable to be appreciated fully as it is half-hidden. And the dress needs no help drawing attention to Wilde's figure.
The shorter necklace is lovely too, but it is simply too small to contribute any kind of visual impact to Wilde's look.
When choosing a necklace, always give consideration to the neckline of the garment with which the necklace will be worn. If the neckline is particularly detailed and eye-catching, the best choice may well be to forego any type of necklace. A cocktail-size ring or a set of rings, the latter a popular choice this season, would be a superb substitution.