Actress Catherine Zeta-Jones is so lovely that one would think it almost impossible to make her look bad in a fashion spread.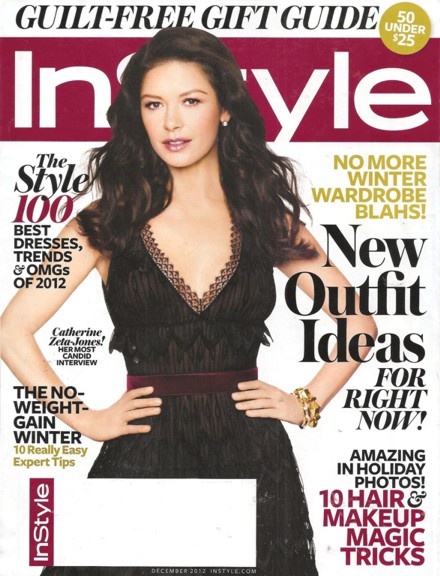 Indeed, she looks radiant on the cover of the December 2012 issue of InStyle magazine in a dress and belt by Nina Ricci accented with beautifully chosen jewelry by Fred Leighton. Notice how the staggered chunky bracelets visually repeat the pattern of the serrated lacy edge of her dress.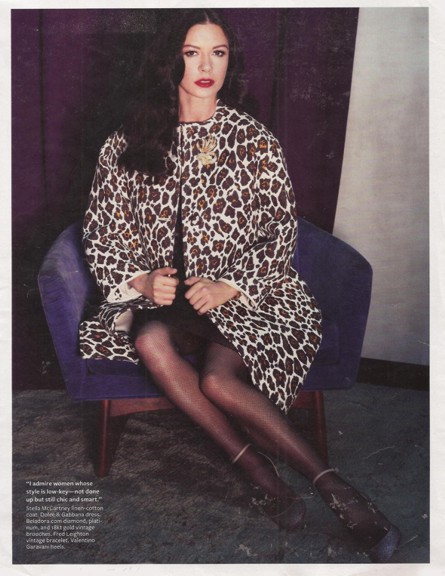 Peer inside the magazine, however, and you will see Zeta-Jones photographed sitting in a Stella McCartney leopard-print coat worn over a Dolce  Gabbana dress and Valentino Garavani heels.  The print visually enlarges the coat, with the result that the wearer appears to be twice the size of Zeta-Jones. The print is so dominant and visually overpowering that one barely notices that the woman wearing it is Zeta-Jones.
The coat does no favors for the jewelry selected either. Zeta-Jones is wearing a pair of stunning diamond, platinum and 18kt gold vintage brooches from Beladora.com, one placed above the other under her face near the top of the print coat. The soft gold designs are completely lost against the busy animal print.
Animal prints are perennially popular, but always step back, look in a mirror, and consider the big picture. Never wear a print that wears you.