Here's an example of styling perfection that brilliantly uses jewelry to focus attention on the soft womanliness of the wearer.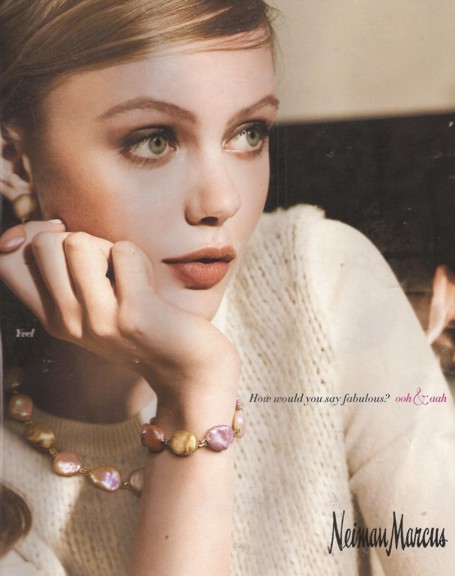 The model in the Neiman Marcus ad has big round eyes, a small nose and ears, lush lips, and fair coloring – blonde hair and hazel eyes. She wears a cream-colored sweater of textured yarn that invites touch. Her look is soft, warm and approachable.
Further emphasizing the softness of the look is the beautiful pearl jewelry she wears, from design house Yvel. Fresh water pearls of luminescent peach and golden hues encircle her neck and wrist and dangle from her ears. The pearls are reminiscent of her pillowy lips and round features. The colors suit her perfectly.
There are designers creating all manner of fabulous jewelry at all price points. Choose for your jewelry wardrobe jewelry designs that draw attention to and highlight your best features.