Beautiful outerwear is part of the pleasure of fall/winter fashion, and this season brings a fresh crop of covet-worthy warm delights. Structured shapes with oversized shoulders, military looks, car coats,  leather coats, parkas, shawls and ponchos are among the plethora of choices. What is not so warm is some of the advice being parceled out as to the proper length for a coat when it is teamed up with a dress or skirt.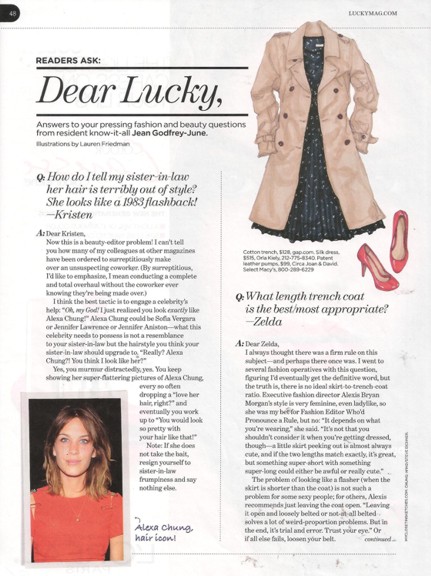 A generic question published in the September 2012 issue of Lucky: "What length trench coat is the best/most appropriate?" resulted in a lengthy answer seeking a definitive answer to the question of the "ideal skirt-to-trench-coat ratio" and found none. One fashion editor polled contributed an "it depends" answer, but then went on to suggest that "a little skirt peeking out is almost always cute, and if the two lengths match exactly, it's great, but something super-short with something super-long could either be awful or really cute." The photo presented with the Q&A in Lucky pictures a trench coat over a slightly longer silk dress.
If you're reading my blog, you're past the stage of wanting any effect that would be labeled "cute." A dress hanging out below the hemline of a coat can look sloppy and second-hand shop, as if you can't afford a proper coat.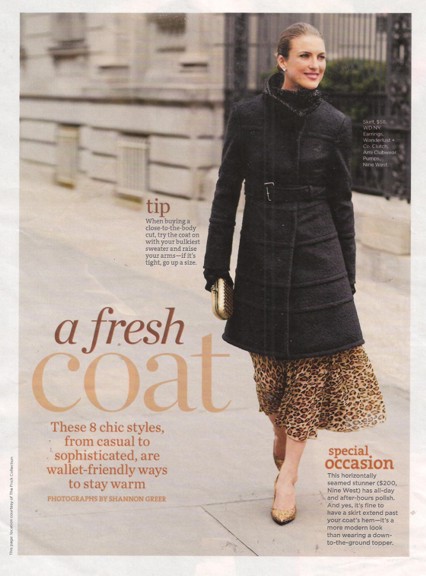 The October 2012 issue of Good Housekeeping took a similar tack in its advice to readers: "And yes, it's fine to have a skirt extend past your coat's hem–it's a more modern look than wearing a down-to-the-ground topper." The skirt is from WD.NY.; the coat and pumps are from Nine West.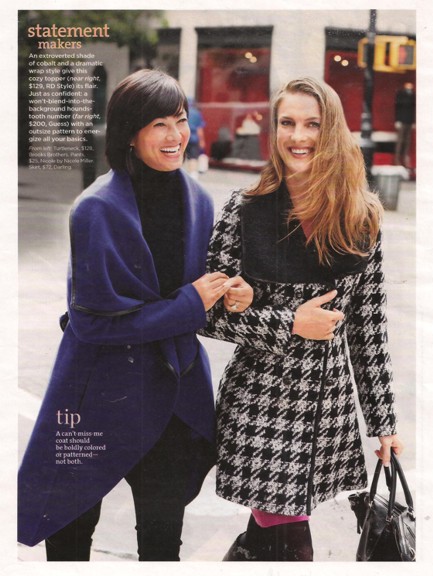 That advice begs the issue, however. There are all manner of great options that don't require a down-to-the-ground topper. The same issue of Good Housekeeping highlights a cut-away wrap style coat that would be terrific with a longer skirt, avoiding the issue of hem length. The coat is from RD Style, styled with a turtleneck from Brooks Brothers and pants from Nicole by Nicole Miller. The coat to the right is from Guess, seen with a hot pink skirt from Darling peeking out.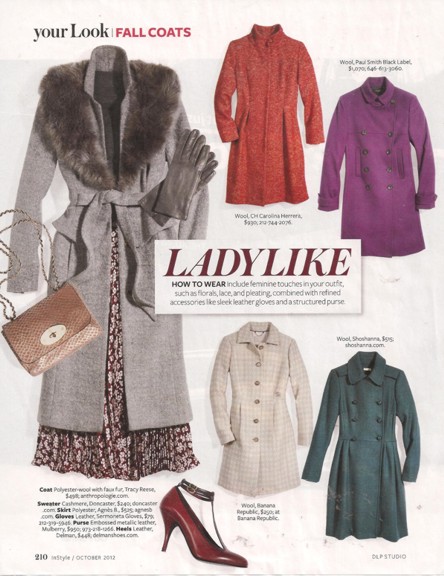 The October 2012 issue of InStyle contains an extended feature on the season's outerwear. Among the choices presented is this "ladylike" ensemble from the same issue of InStyle. A  pleated skirt from Agnes B. extends down below a Tracy Reese coat with faux fur collar. The level of refinement of the coat does not coordinate with the skirt; the colors are off (especially with the very attractive but mismatched chain bag from Mulberry); indeed, the coat doesn't meet in the middle and appears to be too small. The styling misses in every way.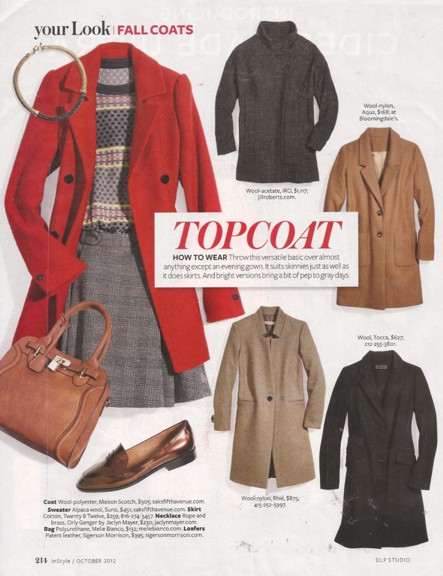 Contrast that look with the red topcoat from Maison Scotch pictured with a sweater from Suno and  skirt from Twenty 8 Twelve in the same issue of InStyle. This look works because there is enough of a length difference between the coat and skirt to make the effect look proportionately pleasing.
Be especially cautious about the interaction of coat and skirt hems if you are blessed with bountiful booty and if there is ANY resultant unevenness in your skirt hemline as a result. My first bit of advice is take the garment to a tailor to even out the hemline. If the skirt hemlines rises up in back, wearing a slightly shorter coat will give you a very peculiar effect.
If an uneven hem is not your issue, be aware that a coat shorter than a skirt creates a double set of horizontal lines across your body, which may cause you to look wider.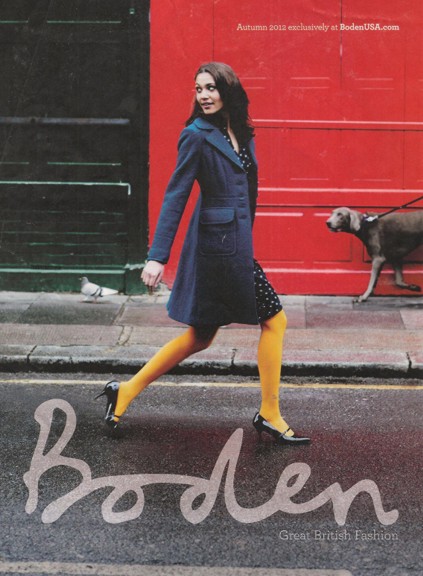 The ad from Boden from the October 2012 issue of Marie Claire, seen above, presents a perfect match of dress and coat. Getting the match that perfect isn't practical if your wardrobe consists of skirts and dresses in a range of  lengths. However, it is always possible to choose a coat slightly longer than the skirt or dress with which it is to be worn, or to opt for a wrap that avoids the length issue.