Sometime over the last year or so, a new catch phrase became a fashion favorite for professional and would-be stylists: add a "pop of color" to an ensemble to make it interesting. The catch phrase became the stylistic rationale for adding shocks of color to otherwise coordinated looks, and typically justified the inclusion of a vibrantly hued accessory such as a pair of shoes, a belt or a bag.
Suppose you find a bag that you absolutely love in a vivid shade of lemon yellow, a fabulous red belt, or shoes irresistible in Kelly green. How can you make the pop of color work?
The addition of a hue to an ensemble works best when it is repeated elsewhere in the ensemble, because repetition provides a pleasing sense of visual harmony. Reds, pinks and corals often coordinate with lipstick. Nail polish this season is all about bold color, and can easily repeat or approximate an accessory's hue. Gemstones set in jewelry also can be selected to coordinate with the favored color.  This season is all about prints, and finding a print that repeats the color is easily accomplished.
If you are determined to utilize a single pop of color, consider its visual effect. Where does the pop of color draw the eye?
Illustration:  From the July 2012 issue of Lucky magazine, here's a photo of Leighton Meester in a dress from BCBG Max Azria in neutral hues with a pop of color that draws attention to her waist.
Shoes draw all eyes downward, so  if you're thinking about a pop of color via your shoes, consider whether your feet is where you want people to be looking. If you have great legs and want the eye to sweep down over them, great. Otherwise, the effect suggests fashion victim rather than creative chic. A vivid belt accents a waistline. A bag, since it is held, is the most flexible pop of color, since it is entirely independent of your body. However, the bag should have the same level of refinement and coordinate with the overall style aesthetic of your ensemble, or it will just look as though you forgot to switch out your purses.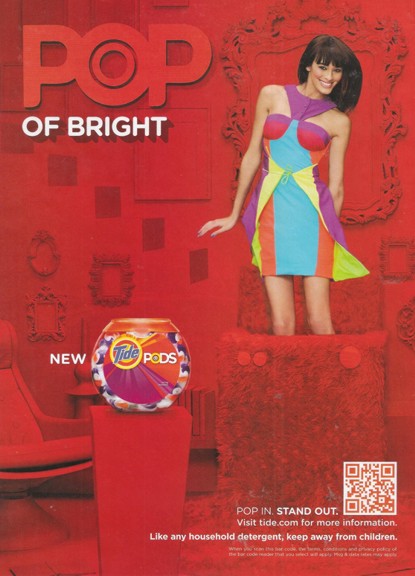 Quite aside from the styling advice, it's time to let the phrase "pop of color" go. When a laundry detergent picks up on a fashion catch phrase, you know it's well past its "use by" date.