If you're one of the fashion magazine fans who has felt that Vogue magazine has little relevance to the real-life needs of the vast majority of women, you may be intrigued and delighted by a new feature that the magazine introduced with the August 2012 issue, "What to Wear Where."
Here's what the magazine says about the new content, calling the development "Keeping it Real": "we introduce WHAT TO WEAR WHERE, a new monthly feature of practical solutions to those SPECIFIC SARTORIAL CHALLENGES we encounter in our WORK LIFE (slick envelope clutches and portfolio bags transport papers and iPads with EFFICIENT PANACHE) and our everyday family ménage."
The first installment features six looks and  "six supersleek, superchic handbags" that "speak to how efficient and modern you can be," whether you're dealing with a job interview, television pitch, lunch with investors, or other work duties. Some of the looks shown are so fashion-forward as to be more appropriate for creative fields rather than conservative businesses, but none of the looks push the inappropriate overt sexiness that sidetracked Marie Claire magazine in its efforts to create an "@ Work" spin-off supplement.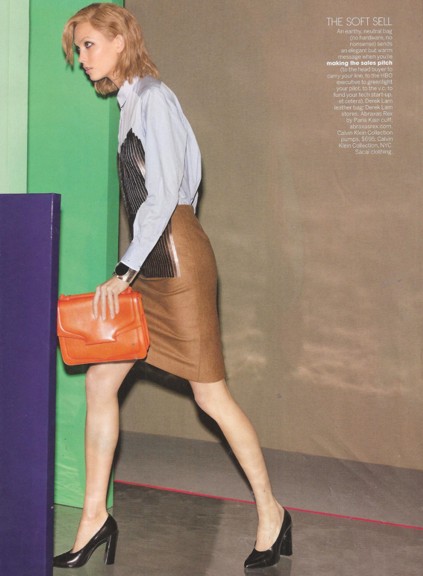 Here's a skirt look from Sacai worn with a leather bag from Derek Lam, pumps from Calvin Klein Collection, and a statement cuff bracelet from Abraxas Rex by Paris Kain. About the bag, Vogue states: "An earthy, neutral bag (no hardware, no nonsense) sends an elegant but warm message when you're making the sales pitch. . . ."
A jacket and pants ensemble from Max Mara, worn with a calfskin bag from Emilio Pucci, a statement necklace from Givenchy by Riccardo Tisci, and a pair of rings–a signet ring from Mannin Fine Jewelry and a Hoorsenbuhs ring from Barneys–create a blueprint for success, says Vogue:  "Akin to the scarlet power ties of the 1980s, royal-blue accessories today are a clear statement of confidence–just the right tone when you're asking the CEO for a promotion."
These descriptions are spot-on, as if vetted by, if not actually written by, an image consultant. This is genuinely practical advice, the difference between pushing trends and helping women find fashions that meet their needs. I am eager to read more in coming months.