Summertime, and the dressing is easy. Unless air conditioning is cranked up to the goose bump level, dressing for which I'll address separately, staying cool and comfortable usually means ditching the cardigan or jacket and paring down with to either one piece – a great dress – or two pieces – a flattering top plus your choice of a skirt, shorts or pants.
The quintessential summer top, as noted in the July 2012 issue of InStyle, is the t-shirt.  InStyle provides "12 Reasons to [Love] a T-Shirt (as if You Needed Them!)," which doesn't actually provide 12 reasons why you might love any particular t-shirt (since, for example, brights and pastels are mutually exclusive categories), but rather, 12 possible reasons why you might love a particular t-shirt (i.e., because it is in a bright or pastel hue).  For instance, a tee in a thin, body-hugging fabric layers easily; a tee with long tails "covers your butt"; a tee with Spandex may not stretch out.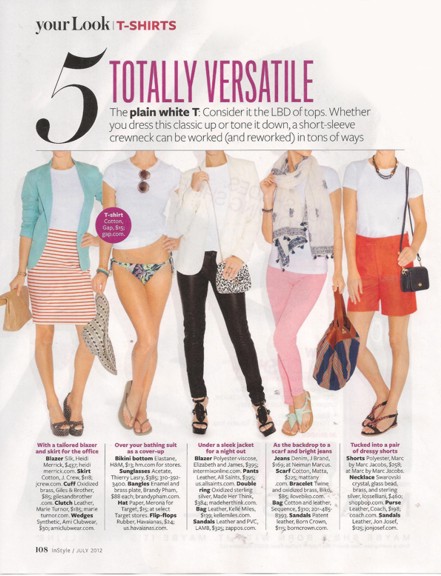 Where InStyle  particularly misses the mark is in its love song to the plain white t-shirt, as it rhapsodizes: "Consider it the LBD of tops. Whether you dress this classic up or tone it down, a short-sleeve crewneck can be worked (and  reworked) in tons of ways."  I would tweak this statement to say that a tee shirt in a flattering neutral color with a flattering neckline and sleeves can be enjoyed in countless variations.
The crewneck is simply not a flattering choice for almost any woman, as I wrote back in February. As you can see, in every case, InStyle either disguises the crewneck by wrapping a scarf or hanging a pair of shades from it, or distracts from it by means of a statement necklace or jacket.  But how much more flattering each of the looks would look if the neckline were wider and deeper, so that the torso doesn't look so boxy.
For women with large or fleshy upper arms, a longer length sleeve is more flattering than one that cuts across the arm at about the level of the armpits. A sleeve that fits loosely and ends above the elbow is a great hot-weather option that disguises the upper arms.
The color white may also be a challenge. A bright white tee may make the wearer's teeth and the whites of her eyes look off-color if they are not the same bright tone. Choose a softer off-white or other pastel or neutral shade in a color flattering to you  and enjoy its versatility.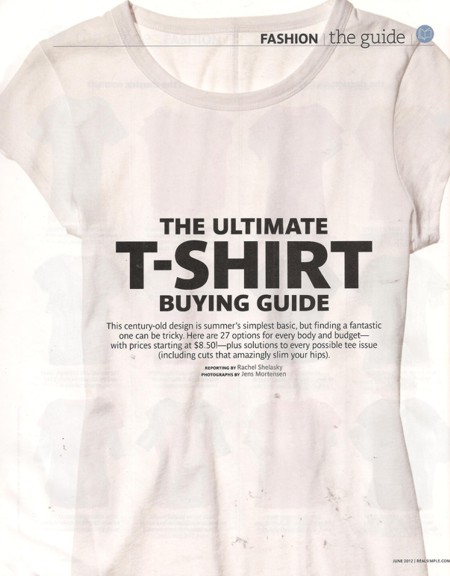 The June 2012 issue of Real Simple magazine recognizes the challenges of finding a flattering tee shirt in the feature, "The Ultimate T-Shirt Buying Guide" which begins: "This century-old design is summer's simplest basic, but finding a fantastic one can be tricky. Here are 27 options for every body and budget . . . plus solutions to every possible tee issue. . . ."  The guide is packed with tips as it analyzes various fabrics, styles and even the opacity of various tees.
Among the highlights in the Real Simple guide is the discussion "What's My Neckline?" that helps readers determine what styles are most flattering. A crew neck is a "classic, but it can emphasize a large bust, a short neck, or a double chin."
The guide deems a v-neck "Universally flattering, but watch the cut: A very high V can make a large bust look saggy, while a plunging V can be too revealing. A wide V balances out pear shapes."  The issue with a high vee is that it affects the visual sense of the wearer's proportions, and it can make any bust, large or not, appear relatively low. A wide vee, like a scoop neckline wider than a crew neck, makes the wearer's head appear more in proportion with her body. If the neckline is to be worn unadorned, choose a neckline at least as wide as the widest part of your face. A narrow vee can be nearly as unflattering as a crew neck.
About scoop necks, the Real Simple guide states: "Beautifully displays the collarbone and elongates a short or thick neck. However, the curvy neckline highlights a round, full face. . . . "Let me suggest striking the word "However," and taking a different tack:  A scoop neckline can highlight a beautiful round, full face.
Don't settle for ho-hum, less than flattering style in a garment that can well be the mainstay of your summertime wardrobe. Both magazine articles provide a wealth of options for consideration, a great place to start your quest for the perfect tee.