In People  magazine's "StyleWatch" in its June 4, 2012 issue, pretty lace dresses are featured as the best looks of the week.  Seeing dresses side-by-side provides an opportunity to consider the pluses and minuses of a particular look.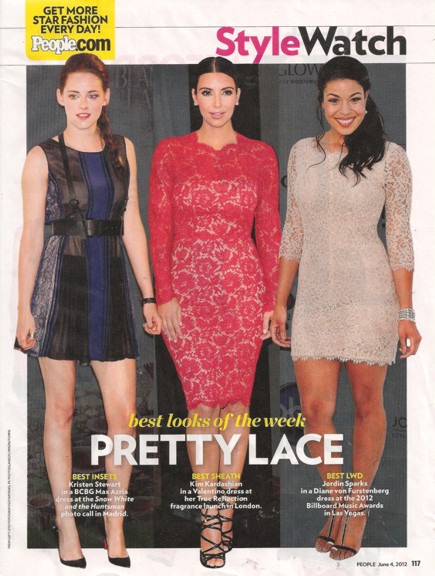 As much as I love Valentino, that designer's red lace dress worn by Kim Kardashian falls short when compared with the similar Diane von Furstenberg white lace dress worn by Jordin Sparks. The red dress is not optimally flattering to Kardashian. The very covered-up design of the dress is almost certainly meant to tone down the sexiness of sheer red lace worn over a light slip. The demure design details, however, go too far.
Kardashian's delicate face looks out of sync with the expanse of red lace below it. A wider neckline, such as that on  Sparks' dress or on the very different style BCBG Max Azria dress worn by Kristen Stewart, would make the bodice of the red dress look less blocky.  The neckline need not dip low to accomplish a dramatic difference in effect.
Raising the sleeves to elbow or three-quarters length, as seen on Sparks' dress, or making the dress entirely sleeveless, like Stewart's, would also substantially reduce the blocky effect of the Valentino. Showing all or a portion of the arms visually enforces the hourglass shape.
The length of the red dress is demure, to be sure, but because the skirt tapers, it also allows the dress enough length to emphasize the hourglass shape of the wearer. Raising the hem by an inch or two would also be flattering. So too would exchanging the ankle-wrap strappy sandals for pumps such as those worn by Stewart. The ankle-wrap visually shortens Kardashian's legs.
The ensembles worn by Hollywood's darlings often go too far in exposing too much, but here's an example where a look is too covered. up. A few alterations and a change of shoes would make all the difference.